Requesting Access
The user will see an icon in the system tray, which is green, when the user is not administrator. If the user needs to be administrator, the user would have to right-click and request permission: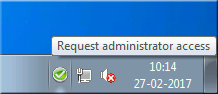 On the Admin By Request portal, you will see an inventory of your computers. If a user has a legitimate need to be administrator, you locate the users' computer and click the "Admin Audit" tab, where you use the left-side window to approve one-time access:

Once you have approved access, the user can request access one time before end of the day. Under "My Account", you can configure how long time the user is administrator and you can also decide to auto-approve, in which case you will only audit. Once the user right-clicks and requests an administrator window, the user will clearly see that they are administrator and must be careful:


Once the user either stops the timer or the time runs out, the information will be uploaded to this website, so you can see when the window was started and stopped. You can also see, which software was installed during the window. You can see a completely list of administrator usage on any given computer and you can also export the data to Excel, PDF file or a CSV file.
Offline Computers
The user might need to be administrator offline. In this case, the cloud server cannot be contacted and the user will be present with a PIN code window instead. If you look at the screenshot further up, you can see that there is a PIN code on the right side. This is a PIN code that is unique for this computer on this day. Once the correct PIN code is entered, the window starts.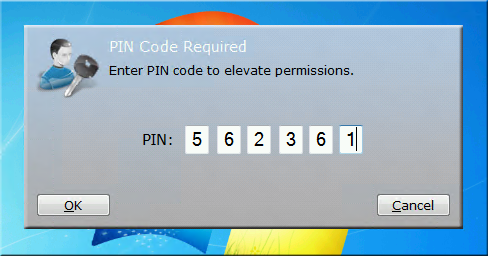 Contact Us For A Demo!

Would you like to see Admin By Request in action - or try it out for yourself? Click on the button below and we will be in touch to set you up right away!