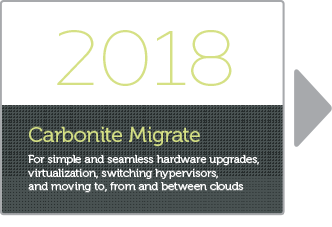 2018
May: Carbonite Move re-named Carbonite Migrate.
Carbonite Cloud Migration becomes integrated inside Carbonite Migrate.
Product line-up at end of 2018 (Double-Take technology based)
Carbonite Availability
Carbonite Migrate
Carbonite Recover
The three Double-Take technology based products nicely compliment Carbonite's other backup solutions that cover endpoints and traditional server backup. These capabilities were previously missing from the Double-Take range.
These solutions are currently:
Carbonite Endpoint
Carbonite Server Backup
Carbonite Server VM
The final line up results in an incredibly strong & capable product portfolio, meaning that at last it is now possible to purchase award winning solutions for H/A, Migration, Cloud Backup, Endpoint Backup and Server Backup, all from the same vendor.
Some may say this is great for 'one throat to choke', but I prefer to take a more positive attitude of: 'one back to pat!'
Behind every great product... is a great company
Ever since ACC started, it's been a core ethos to not only test products, but the companies behind them. There is only one way to accurately achieve this in our view, and that is to actually buy and use the product ourselves, just like a customer would.
It is only with proper fully immersive 'road testing' of a product, used with your own equipment and data, that we can get a real-life feel for product reliability, ease of use and support. Also using the product internally on an almost daily basis results in far superior product knowledge, which reduces pressure on the vendors product support team. Finally when a customer asks for a recommendation, it's extremely satisfying to be able to look them in the eye and say, if we use it, we rate it. This is a very powerful sales argument.
But we did not simply get here by ourselves. So we think it's only fitting that, after posting up a slice of Double-Take product history, we also post up a mini 'roll of honour' to thank those key & truly exceptional people involved with Double-Take over the years that assisted and inspired us as partners & evangelists. We thank you all!
Steve Marfisi

Our main technical contact at emBoot - makers of one of our favourite products, NetBoot/i which we used for a number of Boot From SAN deployments. Steve did a truly awesome job in helping us get our head around what was then quite an innovative concept. emBoot was acquired by Double-Take Software in 2008, and so was the initiator to our introduction to Double-Take. This must have been quite a challenging time for Steve but he stuck it out so great credit to him. Netboot/i and SanFly would later become Double-Take Flex, a product which to this day we feel was rather misunderstood at Vision Solutions and therefore it eventually was EOL'd and retired. A great shame!
Ian Masters
As we came over from emBoot, Ian was one of the first people to welcome us into the Double-Take family and therefore can take much of the credit in changing our perception of the acquisition of emboot from negative to positive. With 10 years of service to the Double-Take cause from 2006 to 2016, and many many product seminars attendances (!) we would like to thank Ian for his excellent partner management.
Mark Adams
Mark started out with Double-Take in 2005, and has only just recently moved on. Mark was our main go-to contact at Double-Take, Vision Solutions and Carbonite for sales related matters and it was this consistency of contact which kept us both loyal and interested in fighting the Double-Take cause. He was certainly always 'Highly Available' when we needed him!
Andy Ebbs
https://www.linkedin.com/in/andyebbs/
Since 2006, Andy has been the fountain of all technical knowledge related to Double-Take for us as partners. The title of 'Sales Engineer' may seem somewhat of an oxymoron to some, but actually his ability to clearly communicate technical benefits and requirements to partners was crucial to our partner 'buy in'. Immense product knowledge at the enterprise level, and one of the best SE's n the business.
Luke Smith
https://www.linkedin.com/in/luke-smith-7b4a9551/
Luke only started with Double-Take in 2016 (when with Vision Solutions) so compared to others, he's a relative newbie! Luke has big shoes to fill from those before him, however he's doing a fantastic job for us now we are Carbonite partners. He deserves a large slice of credit for inspiring us to write this blog!