(Above: Caringo Uk - stand 972)

This year's Cloud Expo (Tuesday at least) was an extremely busy, and rather hot affair. This event is usually held around the time of year that makes you to feel happier inside than out, but after a few hours of slogging round the hall we were glad to escape for a rewarding rendezvous at a sunny London public house!
Expo events are always a good yardstick for the health of the industry in general, and on Tuesdays outing, we can confirm that it's very much alive and kicking. As well as giving us a good opportunity to research a few products that are of great interest to us as future solutions (watch this space!) , we always like to meet up with existing suppliers for a catch up.
Caringo
We met Roger and Alex on their stand for a good talk about our next 'Object Project' details of which will appear on this blog soon. We got a good rundown on what's new and some clarification on questions. Caringo is definitely a vendor on the up, and judging by the number of people on their stand, we're not the only ones who think that.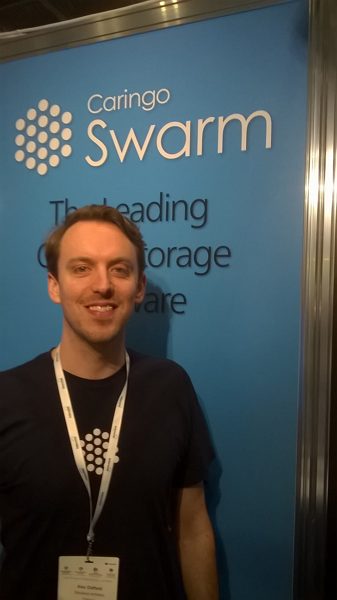 Above: Caringo UKs Alex Oldfield
Paessler (PRTG)
We had a good meeting with Rupert and Christine (pictured here with our Ian) who were both rather complimentary about our recent work on our custom PRTG sensor for Office 365. Paessler are at so many shows these days, it means they are truly accessible for the people who use their product – the end customer. Funnily enough, one of ours apparently showed up on their stand just a short while before us. Small world!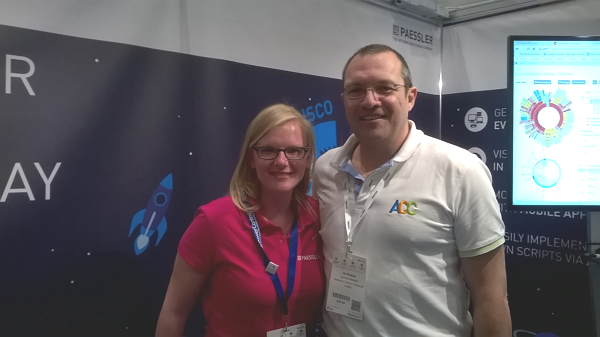 Above: Paesslers Christine Linder and Ian from ACC
Mellanox
Good to see their SX1012 10Gb top of rack 1/2 U switch solution is going well, and we were very interested to hear about an update to this in the pipeline with even more impressive specifications. Unfortunately, we can't tell you any more than that on this blog!
So that's it, we came, we had a good look round, and ended the day down the pub sitting out in glorious sunshine. Do days get any better than this?!?!?