MDPC 4.5: Unchain from Exchange!
It's slightly ironic that of all the complex applications we provide under our APP:Host solution, from Expression Engine, JBOSS to Microsoft Sharepoint - by far the most popular hosted service we are asked to provide, is good old email. We know that email provision is of business critical importance, so if you're let down by a poor quality email solution - or one that doesn't fit your particular business requirement, this poor quality will ultimately filter down to the one person you care about the most - your customer (or potential customer even).
So the service you are looking for must therefore be highly functional, flexible, and therefore capable - combined with our formidable reputation on hosting secure, high performance online applications - yes!?
Do you suffer from email anxiety?
With the growth of cloud solutions, and Microsoft bundling (some might say 'forcing businesses on to') their one size fits all monolithic & generic email services into their Office 365 solution, we are finding that more and more customers are suffering from acute 'email anxiety':
Where does our email actually reside?
Is it completely secure?
Why won't our email solution just do 'x'

...and the most important of all
Who do we actually phone when there is a problem with it?

The high quality, affordable MS Exchange ALT-N-ative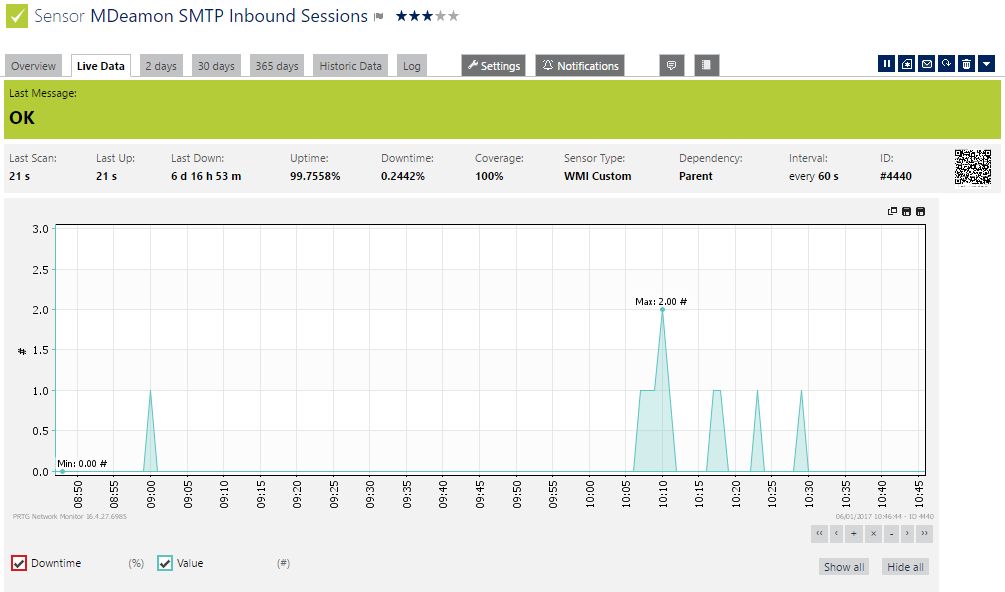 Above: A great example of an APP:Host feature in hooks to PRTG. What is your email server actually doing? Would you like rich WMI counter based PRTG monitoring and alerting built into your MDaemon messaging? You got it!
As one of only two authorised providers for MDaemon Private Cloud in the UK, ACC Yottas aim is to completely cure your email anxiety by providing you with what we consider is the world's best email & messaging platform, with our state of the art hosting infrastructure & advanced (ISO 9001:2015 certified) application hosting expertise. Located in our Tier 3, ISO 27001 certified datacentre in Byfleet, Surrey, we own & maintain all our own kit, so there are no 3rd party providers to pay bucks to, or pass the buck to. And because it's completely 'our show', we promise, our MDPC solution will dazzle you. Just take a look at what our starter 5 mailbox solution – our entry level solution gives you, as standard:

Dedicated Windows Server, Hyperconverged cluster based

Fully managed by us, but with admin level access for you if you need it

Options on vCPUs, RAM to suit

High performance disk layout tuned for MDaemon (O/S disk, Mailstore disk, Log disk)

All disks SSD tiered, adjustable % to suite performance requirements

Dedicated secure VLAN

Dedicated PaloAlto Networks SSLVPN solution

Dedicated PRTG monitoring solution, with WMI hooks for MDaemon performance counters – standard

MDaemon Private Cloud Edition 4.5 with 5 mailboxes

MDaemon webmail, remote admin access (over SSLVPN if required)

Daily, Weekly PaloAlto Networks Network and Threat reporting

Encrypted backups, block and byte based, multiple deltas per day if required.

Webroot AntiVirus Solution

We also offer competitive options for offsite email archiving to, using the highly capable 'MailStore' solution - contact us for more information.
We are Vision Solutions DoubleTake SPLA partners so we could also real time replicate your entire MDPC server to a target server of your choice, anywhere in the world
Take us for a trial - it's FREE!
The above starter solution, with 5 user mailboxes, costs just £149+VAT per month, with no setup costs, and no contract commitment.
For more information on the new features included in MDPC 4.5 (based on MDaemon 16.5) please read our blog post 'ACC Yotta upgrades APP:Host MDaemon Private Cloud to version 4.5'
With such a rich feature and competitively priced offering, we're confident you will decide to move your email hosting to the type of solution your business deserves: higher quality, more secure, more control, more visibility with what's going on.
Why not drop us a line today and we can get you started?
CONTACT US FOR YOUR MDPC TRIAL TODAY!